Detroit Red Wings: Free Agency Breakdown Thomas Vanek
The Detroit Red Wings decided to bring back Thomas Vanek this past July on a one year term worth 3 Millon per. This signing may have a more negative influence on Detroit than positive.
The Detroit Red Wings decided they wanted to bring back Thomas Vanek. Vanek is a one-dimensional winger, what we mean by that is Thomas Vanek is an offensive player that is often a liability in his own end.
Detroit decided to bring back Vanek simply for two reasons. Vanek is expected to help Detroit's powerplay and even strength goal scoring which was dreadful last season. Detroit's powerplay limped along at a 17.5% conversion rate. That power play would rank 24th in the NHL.
Thomas Vanek will definitely help in these scoring areas but is it enough to block a younger player from a roster spot? Last year Vanek scored 4 power play goals. Detroit's leader was Mantha who had 9. Tomas Tatar scored 8 & Frk 5.
Last season Vanek scored 24 Goals total and ended with 56 points. Detroit needs help on offense but at the price of a young forwards growth and NHL experience we feel isn't in Detroit's best interest. 24 goals would have tied Anthony Mantha for the team lead and 56 points would have tied Henrik Zetterberg for second on the team.
Vanek when you look deeper into his Corsi analytics a couple of interesting things pop out. Looking at last year statistics alone when Vanek was on the ice his team controlled the puck 55% of the time during even strength play. It's always good to have the puck more than your opponent. In comparison, Dylan Larkin while on the ice at even strength Detroit only had the puck 50.7% of the time.
The eye-popping number is Offensive zone faceoffs vs. Defensive zone faceoff starts. Thomas Vanek started his shift in the offensive zone 70% of the time last season. Only 30% of the time Vanek started play in his own zone. This shows coaching considered Vanek a liability in his own zone.
In comparison, Dylan Larkin started 48.5% of the time in the Offensive zone and 51.5 in his own zone. It shows the growth of Larkin & Detroit relied on Larkin in all zones in his 3rd NHL season. Dylan also led all Detroit Red Wings forwards in ice time last season as well.
The benefit of Vanek along with scoring help is the one year contract at 3 million. The often traveled winger will be shopped around at the deadline in the hopes of acquiring a mid-round draft pick or a young player. 3 million is not a steep price to pay especially after Detroit would have already paid the majority of the contract throughout the season come trade deadline day.
It's a very much movable contract. Last year Vancouver traded Vanek to Columbus and acquired former Wolverine Tyler Motte along with Jussi Jokinen.
Detroit, we expect will shop Vanek, Gus Nyquist & likely Martin Frk who are all on the final year if their contracts. Detroit had too many forwards at the time of the signing and this just adds to it issue. One positive though is Vanek does bring stability to the top 6 forwards.
Thomas Vanek: C
The reasoning for a C grade signing; We would like to see Michael Rasmussen, Evgeny Svechnikov & Givani Smith all have a chance at a regular shift with the Detroit Red Wings in the up and coming season. The addition of Thomas Vanek blocks one of these players. The ability to help the offense & only a one-year commitment are positives with Vanek. Also, a trade candidate during the season to a team looking for a depth scoring forward to acquire a draft pick helps the rebuild.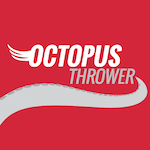 Want your voice heard? Join the Octopus Thrower team!
Write for us!
If Detroit didn't have too many forwards at the time of the signing or not as many prospects looking for a regular shift the grade would have been a B. The roster blocking of young forwards hurts the Detroit Red Wings a lot more than Vanek will help them.