Detroit Red Wings: Free Agency Breakdown
The Detroit Red Wings were fairly active early on in Free Agency. With offseason grades, let's have a look at Mike Green and what we can expect.
The Detroit Red Wings were able to re-sign Mike Green. Green who was the second-best option league-wide when it came to available unrestricted free agent defenceman. John Carlson was the clear number one target he like Green ended up re-signing with his previous employer. Washington retained Carlson, Green stays in Detroit.
Mike Green is a nice fit for the Red Wings for a few different reasons. Green runs the Detroit Red Wings number one Power Play. He also fills a necessary need being a right-handed shot. It seems right-handed defencemen are few and far between these days.
Detroit struggled to produce any type of consistent offence from their defence group over the past few years. Mike Green even though he's past the prime of his career is still a gifted enough player to score 10 to 14 goals for the Wings.
The one time 30 goal scorer isn't that anymore but still has some offensive instincts. It is possible Green may become a nice trade chip trade deadline day 2019/20. Detroit will still be well into the rebuild and it's quite possible Green will again draw interest from contending teams looking to add a depth defenceman who also has that coveted right-handed shot.
Green led Detroit's D core with 8 goals and 33 points last year in 66 games played. Niklas Kronwall was second with 4 goals and 27 points in 79 games played. The back-end scoring ability is fairly ugly, to say the least.
Although Mike Green is about to turn 33 as the new season gets underway, his 2 year deal with a salary of 5.38 AAV per is lower than the contract he just finished in Detroit where the AAV was 6 per. Not too often you see a player take less money on short-term deals when said player is under the age of 35. We can't overlook Green's desire to stay and play for the Detroit Red Wings.
Green was a liability for many years in his own zone. It seems as he's gotten older he has rounded his game a bit more. He's cleaned up his play in his own end from years past. He once was an all or nothing offensive guy, now a bit more balanced.
Mike Green: B
The reasoning behind the "B" grade. When I combine the talent level and filling a need. Detroit's fairly thin on Defence to begin with talent wise. Mike Green on Detroit's roster is really a top pair defenceman. On a better team, he would likely find himself as the 4th D-man at best. Green a solid player still and rated second best available player at his position going into July 1st signing period. The Short-term deal at a tradeable price down the road provides flexibility.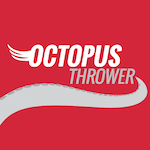 Want your voice heard? Join the Octopus Thrower team!
Write for us!
If the Detroit Red Wings can transition to a younger defence corps soon. Green provides veteran leadership and a sense of stability to the back-end moving forward. It's a good signing for Ken Holland and the Detroit Red Wings.