Ben Chiarot is meeting expectations but nowhere near his true potential
The title isn't actually supposed to be misleading. Detroit Red Wings defenseman Ben Chiarot is meeting the expectations many of us expected from him in his second year with the organization following a lousy first year. The problem is he isn't performing at the level or anywhere near what was expected when general manager Steve Yzerman signed him to a four-year $19 million deal.
Although Chiarot isn't playing at the level he performed at with the Montreal Canadiens during their Cinderella Stanley Cup run back in 2020-21, he's quietly performing much better this season with the Red Wings. During that incredible run with Montreal, Chiarot was playing over 25 minutes per night, often paired with Shea Weber, drawing the most challenging assignments. The Habs continued to roll, playing nearly just four defenders exclusively following the first period of those games, and ironically, two of them are now with the Red Wings, the other being Jeff Petry. Petry has quickly taken over from Chiarot as the fans' punching bag this season. Chiarot, at 6-foot-3 and over 225 pounds, also plays with a bit of an edge, which undoubtedly caught Yzerman's eye. Chiarot began his NHL career in Winnipeg, where he spent six years totaling 12 goals and 64 points and was a combined plus-16 while averaging third-pairing minutes, just over 16 per game.
Detroit Red Wings head coach Derek Lalonde instantly paired Chiarot with Moritz Seider last season. Still, the two didn't exactly build up chemistry together, and as Chiarot's play diminished, Jake Walman's game began to explode. This is not a knock on Seider, but this shows how good Weber had been with his ability to shoulder the load. Also, we're still far too early into Seider's career to ask him to carry his defense partner and continue to develop into the superstar he's destined to become. Sure, he's already Detroit's top defender, but he is still just scratching the surface of what he will become. Playing with Walman has allowed Seider to focus on his defensive game and create offense when the opportunity presents itself. The immediate chemistry between Seider and Walman completed a superb, dynamic top pairing for the Red Wings, leaving Chiarot to fall down to the second group where he'd look to right the ship. The fact of the matter is, he was never able to.
Ben Chiarot is not performing as expected, but not nearly as inadequately as last season.
Last season for Chiarot was one of those years you want to crumple up and throw into the trash can. He played to a minus-31 rating, recording five goals and 19 points over 76 games, but continued to average over 20 minutes per night.
Things have improved significantly this season for Chiarot, but he's still not the player he had been in Montreal. During that postseason run, he posted 88 hits and 48 blocks over 22 games. He also maintained a Corsi For Percentage (CF%) of 51.3 during even-strength situations. As a comparison, Ben Chiarot totaled 147 hits and 163 blocks in 76 games last season with the Red Wings—his CF% was 42.3.
This season, Ben Chiarot has a CF% of 45.2, and he's totaled one goal and five points through the first 15 games. Oh, and although it's a stat that doesn't get utilized or acknowledged the same as it once did, he's a plus-8 this season.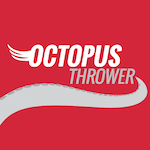 Want your voice heard? Join the Octopus Thrower team!
Write for us!
He may never be the player Yzerman hoped he would be when he signed him to that lucrative four-year deal, but he's part of the leadership group in Detroit, and it might be due to the fact Detroit improved as a whole in the off-season, but he's not playing as poorly as he once had. That being said, the signing will remain a disappointment throughout its duration and will forever be one of Yzerman's few swings and misses.