Detroit Red Wings: Mike Babcock proves a tiger never changes its stripes
Mike Babcock built up an irreversible reputation during his time as the head coach of the Detroit Red Wings. That reputation carried over during his time with the Toronto Maple Leafs, where he would end up being terminated. Now, the former Detroit Red Wings bench boss is back in the NHL and up to his old tricks, proving a tiger never changes its stripes.
First, let's briefly examine some of Babcock's foolish, ignorant, and arrogant tactics over the years. There are too many to list, but here are a few. While with the Detroit Red Wings, Babcock bullied forward Johan Franzen to the point of having a mental breakdown. Babcock would continue to push and prod the power forward, battling concussions and depression, and was often attacked. Chris Chelios recalled that the worst came during a playoff game against the Nashville Predators.
"Some of the things he (Babcock) said to him (Franzen) on the bench, I don't know what he said to him behind closed doors one-on-one, but he blatantly verbally assaulted him during the game on the bench," Chelios said. "It got to the point where poor Johan, no one really knowing he was suffering with the concussion thing and the depression thing, he just broke down and had nervous breakdown, not only on the bench but after the game in one of the rooms in Nashville.

"It was probably one of the worst things I've ever seen."
Franzen mentioned that he hated going to the rink; he feared it. He said he was struggling to get out of bed each morning. It was 2019, well after Franzen retired from the NHL when he admitted he could finally sleep naturally through the night.
Speaking of Chelios, the Hall of Fame defenseman also had a famous run-in with Babcock. The former Detroit Red Wings head coach tried to make Chelios a healthy scratch in an outdoor game between the Wings and Blackhawks in Chelios' hometown of Chicago. As the story goes, Chelios marched up to general manager Ken Holland and demanded he play; Holland spoke with Babcock, and Chelios miraculously ended up being in the starting lineup. He wouldn't play another shift. Babcock elected to bench Chelios after the opening shift, and the story goes, as Chelios puts it. Babcock tapped his shoulder late in the third period, but by then, he refused to take a shift. He may have mentioned that he had a few ginger ales in him once he realized that Babcock wouldn't play him anymore.
Then there is the whole Mike Modano thing. During his one year with the Detroit Red Wings, Modano, 40 at the time, unfortunately, caught a skate blade to the wrist, which severed a tendon. The Hall of Fame forward returned late in the season for Detroit only to be a healthy scratch for the final regular season game of the season. Being held out of that contest left Modano at 1,499 career games. Imagine that? Babcock clearly has an ego that eats for days. What kind of person treats people like this? Albeit in a meaningless game, the Detroit Red Wings had already clinched a playoff spot at that point. If Babcock's reason was to rest a veteran who had already missed half of the season, play him a 'Chelios-like' shift, allow him to reach the 1,500-game plateau, and play a man short for the remainder of the 'meaningless' game.
Those three situations are always the first three instances that stand out in my head when I hear Babcock's name. He also did some foolish things with the Maple Leafs in order to feed his hungry ego. Don't forget, he had Mitch Marner, a rookie at the time, write down who he felt was the laziest of his teammates on and off the ice. Babcock would then read the list to the team. Two players Babcock focused on were veterans Tyler Bozak and Nazem Kadri, who centered Marner as a rookie at various times. Awkward.
Also with the Leafs, Babcock decided to scratch veteran forward Jason Spezza in Toronto's first game of the season this year after finding out the forward, who basically signed to play in his hometown for free this year, purchased nearly 150 tickets to the game for his family members and friends to attend the game.
Former Detroit Red Wings head coach Mike Babcock is up to his old tricks.
The NHLPA is investigating Blue Jackets coach Mike Babcock over an invasion of player privacy. In an effort to get to know his players, Babcock asked for players to show him their camera roll. With Babcock's history, it comes as no surprise that there would be a slight uproar. Babcock is in a position where he can't slip up, not once. I don't think what Babcock did was egregious, but I can't help but wonder what his angle is; trust me, he's got an angle.
Former NHLer and host of the wildly popular Spittin' Chiclets podcast, Paul Bissonnette, didn't mix words regarding Babcock's latest power ploy as some are calling it. This was how Bissonnette discussed it on the podcast.
"I get a text from a player," Bissonnette said. "He goes, 'Have you heard what Babcock is up to again?' And I'm like, 'No.'

"So, he gets to Columbus and one of the first things he does is he calls in Boone Jenner, the captain of the team, and he says, 'Let me see the photos on your phone. I want to know the type of person you are.'
Babcock did reply to Bissonnette's outburst.
"While meeting with our players and staff, I asked them to share, off their phones, family pictures as part of the process of getting to know them better," Babcock, who is entering his first season behind the Blue Jackets bench, said in a statement released by the team Tuesday. "There was absolutely nothing more to it than that. The way this was portrayed on the 'Spittin' Chiclets' podcast was a gross misrepresentation of those meetings and extremely offensive.

"These meetings have been very important and beneficial, not only for me but for our players and staff as well, and to have them depicted like this is irresponsible and completely inaccurate."
Boone Jenner was one of the Blue Jackets players rushing to Babcock's defense.
"While meeting with Babs, he asked me about my family and where I'm from, my upcoming wedding and hockey-related stuff," Jenner said in the statement. "He then asked if I had pictures of my family and I was happy to share some with him. He showed me pictures of his family. I thought it was a great first meeting and good way for us to start to build a relationship. To have this blown out of proportion is truly disappointing."
Again, this doesn't appear comparable to what Babcock did to Franzen, Chelios, Modano, Spezza, and Marner, among others, but he needs to realize that he needs to be squeaky clean. He will be under the microscope due to his history, and if this is not an indication, nothing will be.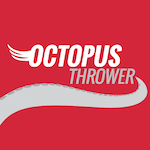 Want your voice heard? Join the Octopus Thrower team!
Write for us!
All I can say is good luck, Columbus. I am just thrilled he is no longer in Detroit. I can't be happier with what I saw from first-year head coach Derek Lalonde last season, and I can't wait to see the improvements in year two.