David Perron just as advertised early on for the Detroit Red Wings
David Perron has been just as advertised early on in the 2022-23 season for the Detroit Red Wings.
Detroit Red Wings general manager Steve Yzerman chose this past summer as the perfect time to begin re-tooling Detroit's roster in an effort to make the organization once again relevant across the NHL.
Although Detroit isn't prepared to make a serious Stanley Cup run, they are no longer lying alone on the NHL's basement floor. It would be an overreaction to suggest that the Red Wings will make a playoff run following three regular season games. Still, it's quickly become evident that this Red Wings team, with Derek Lalonde at the helm, will be a far more competitive team throughout the season.
Adding established players this summer to a team that possessed plenty of talented youth will only help speed up Detroit's rebuilding timeline.
With the free agent additions of David Perron, Ben Chariot, Olli Maatta, Andrew Copp, and Dominik Kubalik this summer, Detroit will be a more consistent team that limits its overall lows and will find themselves in team slumps that just last days rather than weeks like in years past.
David Perron is just what the doctor ordered for the Detroit Red Wings.
Unsurprisingly, David Perron walked into the Red Wings organization and saw an 'A' slapped on his sweater. The longtime St. Louis Blue (three separate stints) had worn a letter in the past and had been a vital piece to the Blues Stanley Cup-winning season in 2018-19. Perron recorded 16 points, including seven goals over 26 playoff games helping pace the Blues' offense to a title.
Over the past few seasons, the Detroit Red Wings have struggled to find reliable depth scoring; adding Perron, who is a gifted goal scorer, a proven leader, and a consistent power-play contributor, checked three significant boxes for Yzerman this offseason, and he's lived up to the hype very early on in the season.
In his first three games with the Red Wings, the 34-year-old has recorded three goals and an assist while averaging just 15:38 minutes of ice time. Perron's wicked one-timer that he loves to utilize with a man advantage that often sees him falling to a knee to maximize the velocity on the shot brings back fond memories of Brett Hull and Brendan Shanahan of years past. I am not suggesting Perron is the same caliber of player, but he does have a similar trait when he aligns himself for a one-timer opportunity.
Detroit is hoping the veteran winger can mirror the same offensive production he's been able to maintain over the past few seasons in St. Louis.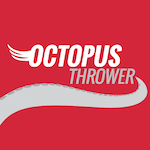 Want your voice heard? Join the Octopus Thrower team!
Write for us!
Last year Perron recorded 27 goals, 11 of which came on the power play and totaled 57 points. As a team last season, the Red Wings totaled just 37 power-play goals and operated at a clip of 16.3% success rate, a mere 4.3% below the league average.