Kirby Dach could be an option at Six for the Detroit Red Wings
Kirby Dach could be an excellent option for the Detroit Red Wings in the upcoming NHL Entry Level Draft. He's a big center with tremendous hands, although he prefers to facilitate he can finish around the net.
He's been compared to the Anaheim Ducks captain Ryan Getzlaf; anytime you are compared to a player of that caliber it is a good thing. Don't get lost in disliking Getzlaf because of the small rivalry the teams had when the Detroit Red Wings were in the Western Conference. Remember the Wings disposed of the Ducks in seven games in the 13′ Quarter Finals (first round) in seven games. Plus if you remember we beat them out as the underdog in our last playoff series.
Dach is a premier passer at his current level; he is projecting to be a Getzlaf, Joe Thornton type NHL passer. His 6'4 frame allows a for a tremendous reach in the defensive zone. He's not afraid to work down low in the offensive zone; his size allows him to shield off defenders until he can spot a teammate to deliver an often craft pass.
His pass-first mentality means he would fit the best playing with a couple of shooters. It's unlikely that the Detroit Red Wings would split up their top line that would be foolish, but Dach with Mantha would bring a lot of size to a line. Mantha enjoys shooting, and that's the type of player Dach needs to play with to be most effective. Another option would be Filip Zadina, of course, I'm looking a couple of years down the road, and that is if Zadina gets things figured out.
If the Wings drafted Dach with the sixth overall pick, I wouldn't expect him to crack the opening day lineup with the team. Detroit has Joe Veleno a young center they drafted in the first round last year with the 30th overall pick, a pick they received in the Tomas Tatar deal. He's a young center that I expect to have an opportunity to make the team out of camp this summer and Dach would be a year or two behind.
Dach isn't the best skater in the world, and that is a bit concerning in today's NHL. The game is so fast; players need to have more quickness now than ever. He's an average skater at best, but that could be covered up some if he were to play with a player with elite speed like either Dylan Larkin or Andreas Athanasiou.
Dach's passing ability would allow for a lot of much-needed creativity on the Detroit Red Wings power-play that continues to struggle year after year. He likes to work on the half wall which gives him many options. He can direct the puck towards the goal looking for a deflection from a teammate waiting in the "bumper" position in the slot. He can defer to the point and set-up a one-timed shot to whoever is quarterbacking the power-play. If the cross-ice seam opens up, he can distribute a beautiful cross-zone pass to a recipient waiting to unleash a one-timed blast from the opposite circle.
Dach wouldn't be my first choice but assuming both Hughes & Kakko are going one-two that leaves a handful of options for picks three through ten. With the Wings picking at six it will come down to Dach, Turcotte, Byram, Cozens, Podkolzin, Caufield or Zegras.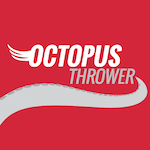 Want your voice heard? Join the Octopus Thrower team!
Write for us!
This season Dach recorded 25 goals, 48 assists totaling 73 points in 62 games. He finished the regular season with the Saskatoon Blades as a plus 15. Through his first ten playoff games this year he's notched 8 points including 5 goals.