Steve Yzerman won't select Detroit Red Wings next captain
It appears Steve Yzerman won't be the one who chooses the Detroit Red Wings' next team captain. Yzerman mentioned a few times he likes to be in charge, so I expect him to have a lot of say in the matter.
Steve Yzerman mentioned during his introductory press conference on Friday that he enjoys being a General Manager because he merely likes to be in charge. Although at times Yzerman seemed a bit nervous but more humbled as he answered the questions asked during the press conference he answered all the questions in a way we, Detroit Red Wings fans could only expect.
Yzerman didn't pump his chest out and say he would save this franchise in a specific amount of time; he continued to say that there is a lot of work to do as he glanced to his right where Ken Holland was sitting. I couldn't help but keep thinking how Holland must feel hearing "there is a lot of work to do here" when it was clear Yzerman was talking about cleaning up the mess Holland created.
He's not coming into an ideal situation by any means. He's inheriting a bunch of bad contracts in which most have a "Ken Holland special" no-trade clause attached. Steve must look at the top of the roster and be excited with the potential of Dylan Larkin, Anthony Mantha, Andreas Athanasiou, Filip Hronek, Dennis Cholowski and Tyler Bertuzzi. But for each one of those, there is a Frans Nielsen, Justin Abdelkader, Darren Helm, Jonathan Bernier, and Jonathan Ericsson.
Speaking of Dylan Larkin, in an article published by Freep.com written by the talented Helene St. James, Yzerman talks about nominating the next captain of the Detroit Red Wings;
"I can't say that's my decision," Yzerman said. "I would tend towards the coach making that decision, but I'd certainly like to talk to him about it. Whoever that is, whenever that is, you make certain that one, it's the right player, and two, that he is at the right stage of his career for that role. That can come in time.

"To me more so than wearing the C on your jersey, it's really how you conduct yourself, how you play, your attitude, whatnot — that's what determines the leader of the team more so than the 'C.'."
As I was reading Yzerman's comments, I again continued to think about Dylan Larkin and how much he deserves to wear the "C" stitched on the front of his jersey. Dylan Larkin seemingly didn't take a shift off last season; he tried to will the Detroit Red Wings to victory in every game even when the losses started to mount. I like how the coaching staff will have an opportunity to have a large say in the decision-making process as they work with the players on a first hand, daily basis.
The franchise decided to rotate four "A's" last season rather than nominating a captain. The second name that came to mind was Niklas Kronwall, but since the team didn't appoint him as the team captain last season, it is unlikely they would this year even though he was without a doubt the teams' leader previous year. There is no guarantee that Kronwall returns for next season either if Ken Holland was still in charge I would have expected him to be back, but with Yzerman being the new boss and being committed to the rebuild we may have seen the last of Kronwall.
It wouldn't surprise me either way for this up and coming season if the organization decided not to choose a captain allowing Larkin to grow into the role one more season. Next summer the team has a few key pieces that will once again become RFA's. Tyler Bertuzzi, Anthony Mantha and Andreas Athanasiou will all be receiving new contracts.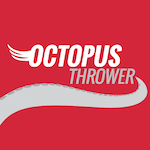 Want your voice heard? Join the Octopus Thrower team!
Write for us!
In my mind, that would serve as the perfect time to announce Dylan Larkin as the teams' new captain and potentially one or two of those other three players as his associate captains. The front runner in my eyes would be Tyler Bertuzzi. I would like the franchise strip the A's from Abdelkader and Nielsen now, but next summer could be the perfect time for a wholesale leadership shift, only time will tell.