Detroit Red Wings: Griffins Cruise to game one victory in Chicago
Did somebody say nine-game losing streak? The affiliate to the Detroit Red Wings struggled down the stretch as they prepared to enter the AHL playoffs but completed game one with a boom. The Griffins found themselves behind 1-0 and then scored five unanswered goals giving them the upper hand to start the series.
The Grand Rapids Griffins struggled to secure a playoff spot as the season was expiring. Part of the reason was that the Detroit Red Wings were so banged up to finish the regular season they needed basically any bodies available to wear the Winged Wheel to field enough players to compete in an NHL game.
The Griffins loaned forwards Martin Frk, Matt Puempel, Dominic Turgeon to go along with defensemen Joe Hicketts, Jake Chelios, Brian Lashoff, and Dylan McIlrath to fill out a roster. The Detroit Red Wings even needed the services of Toledo Walleye goaltender Kaden Fulcher to back up Jimmy Howard for the final week of the NHL season.
Needless to say, the Grand Rapids Griffins backed their way into the American Hockey League playoffs finishing fourth in the Central Division to the Chicago Wolves. If the team had their full roster, they would have had a genuine opportunity to finish at the top of the division granting themselves home ice advantage.
Since the Griffins endured a nine-game losing streak to end the regular season; they would back their way into the playoffs and travel to take on the Wolves in Chicago last night. It was a spirited opening game which saw the Griffins blow out the Wolves to the tune of 5-1. Chicago now has lost seven straight playoff games. Oddly enough both Martin Frk and Jake Chelios were healthy scratches in game one for the Griffins and joined injured captain Matthew Ford in the press box.
Harri Sateri started game one for the Griffins and was victorious, although Sateri and Patrick Rybar shared the cage during the regular season I would expect head coach Ben Simon to continue with the hot hand. The Griffins also have Filip Larrson at their expense who signed a professional try-out allowing him to play in the AHL playoffs if necessary. He will start next season as a regular and potentially the Griffins starting netminder next season.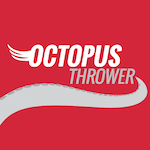 Want your voice heard? Join the Octopus Thrower team!
Write for us!
The opening round of the AHL playoffs are best three out of five so winning the first game on the road was huge for the Griffins. In the case of a split, they will have two chances at home on Tuesday and Wednesday if necessary to put the Wolves away. Game two is tonight at 8 pm in Chicago; you can watch it on watchtheAHL.com.