Detroit Red Wings: He's coming home Steve Yzerman is coming home!
It's every fan's dream come true; the Detroit Red Wings will hold a press conference today at 3 pm that will include Chris Ilitch, Ken Holland and yes, Steve Yzerman. I woke up and read the same thing over ten times wondering if I'd been pranked or if this was some sick April Fools joke.
We've got great news to start your Friday; the Detroit Red Wings are expected to introduce Steve Yzerman as their new General Manager while Ken Holland will side over into a senior advisory role. This is a huge deal for the Wings and finally a culture change the franchise had been so desperately needing.
The expected details above come from an article published by clickondetroit.com Ken Haddad writes that TSN's Gord Miller reports the team will introduce Yzerman as their new general manager, while Holland stays on as senior vice president.
Mark this day down in history, April 19th (how fitting) 2019 (how fitting), the day the franchise changed forever. I expect in a couple of years we will look back to this day and point towards it being the day the Detroit Red Wings started to turn the corner.
This move isn't just great for the organization; it is excellent for "we" the fans. All fans want is "hope," hope the team they root for has a chance to win. If there isn't an immediate opportunity to win a championship, fans want to see positive progress they can get behind, and this move by Chirs Ilitch is just that. This is a game changer, pun intended.
Steve Yzerman built a juggernaut in Tampa Bay, and although they won as many playoff games this season as the Detroit Red Wings it's a team that is built to win now and in the future, something Detroit has wanted for years.
I expect Yzerman to enter into his position and immediately start to trim the fat that has weighed down the franchise over the past few seasons. The loyalty of Ken Holland has been his greatest weakness, and it seems Yzerman won't hesitate to make the move that best suits the team.
When Yzerman abruptly left his post on the eve of training camp, speculation started to swirl. He sited he wanted to be closer to his family back in Detroit who didn't relocate to Tampa Bay. That's all fine and dandy but thoughts started to creep into my head, "was that really the reason?" "does he want to retire?"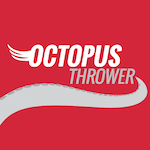 Want your voice heard? Join the Octopus Thrower team!
Write for us!
All of that can finally be put to rest; all the speculation can stop as we welcome our hero home. Steve Yzerman has won two Gold Medals as the GM of Team Canada, he's won three Stanley Cups and he once again is the leader of the Detroit Red Wings. Today is a great day in the history of Detroit sports. Once again, THANKS Chris Ilitch for doing the right thing by bringing Steve home! Steve Yzerman is going to be the next GM of the Detroit Red Wings!