Detroit Red Wings to name captain before next season
Detroit Red Wings general manager Ken Holland mentioned during the teams' season-ending press conference that they would likey nominate a team captain prior to the start of next season.
The obvious choice to be the Detroit Red Wings next captain is a budding star, Dylan Larkin. He's elevated his game to the next level, and it was necessary with former captain and team leader Henrik Zetterberg being forced to retire due to a lingering back issue. After a season the Wings decided to rotate four associate captains it seems the club is once again prepared to stitch a "C" back onto a winged wheel jersey.
Larkin seemed to embrace a leadership role this season; you could see a bit of swagger to his game, something we didn't always see in the past. Perhaps being the second center last season to Zetterberg, watching him work with maximum effort shift after shift, night after night and understanding this year he needed to be that player with Zetterberg unable to walk out from the Red Wings tunnel drove him to be "the guy" this season.
There is little doubt in my mind that Niklas Kronwall was the Detroit Red Wings captain this season. He stood there and answered every question asked, at times after a night the team had been trounced. He mentioned publically on too much of a regular basis (if you are a fan) that the team wasn't playing well enough and they needed a better effort. He always made himself available to the media even after the worst of games.
I'm not saying Dylan Larkin wouldn't, and he did speak after many games but not as often as Kronwall, and if you did take notice, the younger players frequently spoke after a winning effort while Kronwall spoke after the losses.
In an article published by Mlive.com, written by Ansar Khan, Ken Holland all but mentioned the next captain of the Detroit Red Wings would be Dylan Larkin;
"If you look at our assistant captains, the other three are older players," Holland said. "Ultimately, the next captain of the Detroit Red Wings is going to be somebody young."

"As we work our way to the summer and training camp, certainly (Larkin) is a legitimate candidate," Holland said. "He plays hard. He's a tremendous, tremendous player and he's going to be a face of this franchise, and we need more faces of this franchise. Certainly, he would be a leading candidate to be the next captain."
Dylan Larkin is the correct choice; some outlets have suggested the Detroit Red Wings should consider nominating Tyler Bertuzzi as the captain mostly because of the style in which he plays. He plays with that edge, and grit Detroit Red Wings fans love so much, but he would be better suited with an "A" on his sweater in a couple of years.
Tyler Bertuzzi had an incredible season especially the last two weeks, but Larkin was the only Red Wings player to show up every night and play against the other teams' best while delivering nearly at a point per game clip.
In 76 games this past season Larkin accomplished 32 goals and 41 assists to total 73 points. He was a minus -6 although his CF% was above average at 54.4%. Larkin at 22-years-old is still a kid and don't forget after he jumped onto the scene as a rookie he endured a sophomore slump.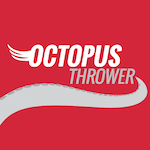 Want your voice heard? Join the Octopus Thrower team!
Write for us!
He's played himself through adversity while learning from one of the best leaders in the history of the game. It is time to embrace him as the face of the franchise, and the perfect way would be attaching a "C" to his sweater.