Detroit Red Wings: "Tough Guy" set to air throughout Michigan
The movie flawlessly named "Tough Guy" is set to air throughout Michigan. The documentary surrounding former Detroit Red Wings enforcer and fan favorite Bob Probert is airing locally, and you don't want to miss it.
The Windsor, Ontario native narrates much of the film himself as he recalls all the ups and downs throughout his career. The former enforcer, or like I prefer to refer to Bob Probert as the heavyweight champion shares personal stories about his childhood, family life, junior hockey, Detroit Red Wings career, marriage along with substance abuse and so on.
The film is raw and uncensored, but if you are a fan of the Detroit Red Wings, Chicago Blackhawks, Bob Probert, or just hockey, in general, it is must-see TV. The tails of Bob Probert squaring off with Tie Domi in the confines of Madison Square Garden while the media set up the pregame as if it were Ali vs. Frazier. Hearing Probert talk about Domi being a small pitbull and declaring himself the champ after a previous encounter.
One of my favorite parts of the film is Probert remembering Steve Yzerman standing on the bench after the pair square off and Bob gets the best of Domi. As Probert is skating to the penalty box, he recalls the often even-keeled Yzerman standing up gesturing towards Probert, motioning his hands across his waist letting Probert know he's the heavyweight champion.
The fact that Probert played much of his career essentially for his home town as he grew up across the Detroit River in Windsor is pretty awesome, but playing in an arena dubbed after a heavyweight champion Joe Louis is simply fantastic and only fitting.
Bob Probert was much more than just a "tough guy" he was a complete power forward that could chip in on the scoresheet regularly. He struck fear into his opponents and just having him on the bench created space for Steve Yzerman and other skilled players. If someone took a run at Yzerman, they would have to answer to Probert or Kocer and on some occurrences both. Imagine having to fight each of those guys in one night? They made up the best insurance policy the Detroit Red Wings could ever have asked for.
During the 1987/88 season, Probert made the all-star game, and as the story goes, Wayne Gretzky and Mark Messier went up to Steve Yzerman and asked him to introduce them to the "big fella." In that career year, he recorded 29 goals, 33 assists totaling 62 points and was a plus 16. Oh, and he registered a whopping 398 penalty minutes, remarkable.
Tough Guy can be found throughout Michigan at these various times and locations:
On April 11 & 12, 'Tough Guy' will be playing during the FREEP film Festival in Detroit.
April 11, 8 pm @ Patriot Theatre
April 12, 7 pm @ Emagine Royal Oak
For VOD (video on demand), the release date is May 7, 2019. It will be available on the following platforms: iTunes, Amazon instant, vids, google play, Xbox, YouTube transactional, Fandango, direct tv, dish network. This will be all across the USA.
April 12-Emagine Theatres in Birch Run, Novi, Palladium Birmingham, Royal Oak, Rochester Hills, Canton, Macomb, Saline, and Heartland
April 17-Sperry's Moviehouse
April 15-18-Patriot Theatre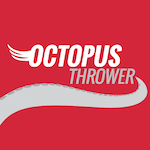 Want your voice heard? Join the Octopus Thrower team!
Write for us!
Some people remember Probert as this intimidating force on the ice and a train wreck off the ice. Yes, he had his problems, and at times throughout his life, he refused to help himself, but the film depicted another side of Probert. The family man, the man who knew he had a disease and was seeking assistance to fight it. In all accounts, a man broken at times yet continued to strive towards sobriety also battling CTE and memory loss. Just as he was arriving at a good place in his life, tragedy struck and unfortunately took a man, a legend far too early from his wife, kids, family, friends, and fans.