Detroit Red Wings: Dylan Larkin Praises Jeff Blashill
The recent news that Ken Holland and the Detroit Red Wings have extended the contract of head coach Jeff Blashill left many, not all but many fans to look skyward in disgust.
The Detroit Red Wings have picked a wonderful time to peak, well, that is if they were a playoff bound team. Please sense the sarcasm involved here. I have thoroughly enjoyed watching this team over the last ten games, but I can't help but wonder where this play had been all season long.
How can the Detroit Red Wings field a mix and matched lineup of likely life-long AHL players with NHL prospects and foundation players and continue to beat their opponents handily? I mean Jake Chelios is a beautiful story, but I don't see him sticking in the league. Dylan McIlrath is a player I enjoy watching because on every shift he plays he protects the net and provides a much needed physical presence in the lineup.
He and Witkowski strike fear into their opponents, is that creating space allowing the more gifted offensive players more room to operate? I'm a bit bias, but I'd rather have all three of these players over Jonathan Ericsson, and I didn't dislike Ericsson throughout his entire career; I always hung on to some type of hope that he'd turn into a physical defender, but that style never blossomed out of his large frame. I think it's time to move on from the Daley's and Ericsson's of the world permanently and insert Hicketts and McIlrath and let them play.
In an article published by freep.com written by the ever so talented Helene St. James, Larkin expresses his excitement about having Jeff Blashill back.
"Everyone has bought in and everyone wants to win and everyone does things to help this team win, but I still think you have to learn how to win," Larkin said Tuesday. "You have to learn how to shine in big moments. Just like Henrik Zetterberg used to say — you play 20 minutes, nothing is going to happen for 19 minutes and 50 seconds. It's that one chance you get. Guys have learned that, but we still need to find a way to win big games and one-goal games."

"He loves the game and that's one of the biggest things I respect about him," Larkin said. "He wants to be better as a person and as a coach. Everyone in here respects him and he respects everyone. We're happy to have him back."
It seems Jeff Blashill is able to get more out of these younger players. I'm not sure if it is because they are fringe players scraping by trying to leave a good impression on the head coach in hopes of making the team next season. For the first season in the last four, we've seen young players excel under Blashill's watch, and that is a big reason why he was recently granted a two-year contract extension.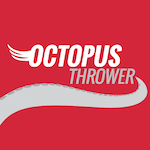 Want your voice heard? Join the Octopus Thrower team!
Write for us!
Remember, just because a head coach has been extended doesn't mean he can't be fired. The hope is Jeff Blashill gets this team to continue this strong play right into next season but if he were to falter early and often Dan Bylsma will be waiting in the wings (pun intended). Bylsma would be under contract for three more seasons' as an assistant coach unless he were to receive an offer to become a head coach elsewhere this offseason.