Lightning threatening Detroit Red Wings regular season win record
The Tampa Bay Lightning are seriously threatening to break the Detroit Red Wings' 62 regular season win record set back in 1995/96.
The team that Steve Yzerman built is sitting with 60 wins on the season with three games remaining on the year after a win last night against the Ottawa Senators. The record set by the Detroit Red Wings was seemingly unreachable in the modern era with all of the parity throughout the league. Amazingly enough, the Tampa Bay Lightning have a legitimate shot if they can find a way to win their last three games of the season.
With their win last night they've tied a Montreal Canadien team from 1976-77 for second place in all-time victories in an NHL season. The Lightning has their sights set on the Wings and potentially eclipsing the 62-win mark. The good news for Detroit Red Wings fans; the Lightning have a gauntlet of top contending teams to beat before they can re-write the record books.
Tampa is in Montreal tonight taking on the Canadiens who are in a must-win position to keep their 2019 playoff hopes alive. Montreal is on the outside looking in, currently sitting one point behind the Carolina Hurricanes for the final wildcard spot and a pair of points behind the Columbus Blue Jackets for the first wildcard position.
Everyone else in the Eastern Conference has been eliminated from contention. It's a three-team race for the final two spots; each team has currently played 79 games. If you are the Canadiens, you need to win out and hope Carolina sputters once, or the Jackets fall twice. The Canadiens clawing to stay alive will give the Lightning all they can handle tonight.
After the Lightning are finished with Montreal, they need to play the Toronto Maple Leafs and the Boston Bruins to close out the 2019 regular season. Both teams will be using the final regular season match-up to gauge themselves against the best going into the playoffs. Boston and Toronto will square off in a first-round matchup, and the two are just four points apart with three games remaining. The Bruins sit with the home-ice advantage, but there is still potential for home ice to flip if the Leafs can find a way to win their last three games and Boston falls.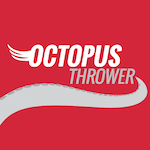 Want your voice heard? Join the Octopus Thrower team!
Write for us!
So, Boston and Toronto will both be playing the Lightning firm understanding home ice is on the line for both franchises. The road to 63 wins for Tampa Bay is in reach but it will not come easy, and being a Detroit Red Wings fan I hope the Lightning fail to tie or break the record.