Detroit Red Wings: Andreas Athanasiou should use Larkin as Inspiration
Andreas Athanasiou is having a breakout season for the Detroit Red Wings. You don't have to look too far back to remember when he wasn't one of Jeff Blashill's favorites, he's turning into one now. spur
As the hot summer sun pounded the Detroit pavement, as we enjoyed a cold beverage on a patio. Maybe sitting around in the back yard listening to the birds chirping or maybe spending the afternoon out on the lake. Andreas Athanasiou had another thing on his mind, more ice-time. The Detroit Red Wings forward went into training camp and asked his head coach publicly for more work.
It might not always be a wise move as a professional athlete to take the "media" route to lobby for more responsibility, work, and ice-time. That's exactly what Athanasiou did. Remember he told reporters, and I'm paraphrasing here; "If I play more, I will produce more."
Detroit Red Wings head coach Jeff Blashill seemed like he didn't take that the wrong way, he answered with his best Mike Babcock impersonation possible. "If you want more ice-time, show us you deserve it, the game isn't just about scoring goals it is being accounted for in all three zones."
Athanasiou has played more this season as he averages a career-best 16:21 TOI per game. There is room for improvement still as he should be up around 18-20 minutes a night in my opinion. He's set a new career high in goals (22) and points (39) with a lot of time left in the season to build on those numbers. He's tied his career high in assists with 17 as well.
You know something, there is denying that Athanasiou has taken a step forward this season, but he has yet to reach his full potential. He's fun to watch; he's known to be a streaky scorer. He scores in bunches and then tends to disappear for long periods throughout the season. We have seen him record 8 points in 5 games, scoring 5 times. Then we've seen him go 11 games goal-less and record 2 total points.
He plays a much different style with his flashy speed and crafty hands, but the streaky scoring reminds me a lot of Tomas Tatar and Gustav Nyquist. In the past, the pair could just glance at the net, and somehow the puck was in, and other times they would both go on lengthy scoring droughts.
Athanasiou should model his game around Dylan Larkin. Larkin plays with a tremendous effort in all three zones. He's terrific in the faceoff circle; he is a viable option on the penalty kill and his lethal on the power-play. As soon as Athanasiou "buys in" defensively, his game will leap forward. Watch Larkin closely, his offense generally starts after a tremendous defensive play.
Although I thought Andreas would have the ability to thrive playing as a center, I seem to be wrong. He looks much more comfortable playing as a winger. He doesn't have the defensive instincts needed to be a two-way center in the NHL. I thought the open ice down the middle would compliment his speed, but at times he still can be found floating at his own blue-line hoping for a breakaway pass.
If he wants to become a more complete player he needs to defer more to his teammates especially when entering the offensive zone. Take a look when he carries the puck through the neutral zone. All too often he tries to do it himself, and the opposition closes on him. Sometimes three or four players collapse to him, and it forces a turnover. Athanasiou needs to either chip the puck deep and use his blazing speed to retrieve the puck or defer to one of his teammates who becomes left open.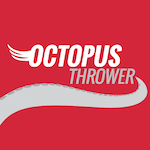 Want your voice heard? Join the Octopus Thrower team!
Write for us!
All in all, it's been a fabulous season for the fourth year, third full season Detroit Red Wings forward. He's asked for more work, and he's delivered. With 30 goals in his sights, I can't help but be excited about what Athanasiou will be soon once he sharpens a few dull areas in his game.