The Detroit Red Wings Trade Deadline as Board Game
If the trade deadline were chess, let's just say Ken Holland and the Detroit Red Wings have their knights off of the rear row, and the pawns arrayed information and are ready to spring the bishops. Trade deadlines, like chess, are a long-game of setting up expectations at the same time you march out your formation of assets.
Ken Holland, the Detroit Red Wings general manager, a trade deadline veteran, is doing precisely that. He wants to enhance the worth of his trade assets by hinting at his readiness to walk away from a deal where trade partners expect to low-ball him. The first law of negotiation is not to appear too eager, right? We have all walked away from a car deal when we fully expect to come back and purchase precisely that automobile.
Holland would just as soon keep Jimmy Howard? He says that, but Howard has been playing near to the high end of his capabilities, putting him at maximum worth, until recently looking more tired and porous. Howard has flirted with elite status before, but is age 35.
He would be a fool not to move Howard, especially in that he could resign him in the summer. But that is looking less and less likely, given how Howard is trending, and the absence of goalie injuries in the NHL. Chess is about the supply of assets at a given moment within the context of demands across the board.
Holland would prefer to retain Gustav Nyquist or Nick Jensen? The two are more valuable assets who probably would bring a bigger return than Howard. On a Detroit Red Wings Stanley Cup contender, Jensen could remain a third pair defenseman but would likely be getting older and slower by then.
Also, such defensemen are among the easiest assets to find when you finally put yourself in that situation of needing one. Jensen has looked much better than expected but on a Wings team of woeful defense, right? If he is anything above a fifth or sixth defenseman on the Wings, it only means the Detroit Red Wings are not yet ripe to contend. Move him for a draft pick/prospect package. (Exactly what we did).
Gustav Nyquist's worth is as strong now as it has been in recent years. He has emerged as a play-maker more than a goal scorer, but he would not look at all out of place next to any Sidney Crosby. By all means, move Gus for a second-rounder or a cocktail of draft picks and near-ready prospect. Holland protests that we have enough draft picks, and the stable of prospects is now close to full.
But the lesson of the "can't miss" Tomas Jurcos and Brendan Smiths should in no way escape us. We haven't the slightest idea whether the Filip Zadinas and Jared MacIsaacs will boom or bust us. The best protection against disappearing NHL prospects is the bottomless pool of prospects. And we have not reached that point of system-wide depth, if we study the ratings of Detroit prospects compared to the rest of the league. Even with our last strong draft, we are middle of the NHL pack.
Ken Holland suggests hesitation in putting such players out there for a well of more future assets. I agree with his positioning. You don't want to lead with a queen out there early in the game and have it chased across the board with nothing to show for it. But if he is smart, he doesn't believe his posturing. Holland knows the best way to incentivize prospects is to find rivals to jump ahead of them.
The likelihood of younger players passing him was exactly what redoubled Nick Jensen's resolve to erase a very forgettable exhibition season and to refuse to be left behind. Competition simply works and complacency, well, complacency results in hoping Jakub Kindl will come around.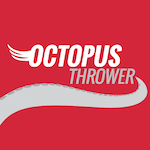 Want your voice heard? Join the Octopus Thrower team!
Write for us!
Don't listen to what Ken Holland says, watch what he does. And if he doesn't do much, in addition to the Nick Jensen deal, it will be because he wasn't offered much and has set our trade bait up to stay with us with no loss of face.