Detroit Red Wings: Expect Nick Jensen to be on the move soon
Nick Jensen has been a pleasant surprise this season for the Detroit Red Wings. Although general manager Ken Holland has expressed his desire to re-sign the 28-year-old defenseman, it would be wise to deal him instead.
During an intermission break, Wednesday night on the NHL Network Bob Makenzie was on talking about the current trade market. He mentioned that Gustav Nyquist is drawing interest although the feeling is Ken Holland would rather re-sign him. This shouldn't be the; his motive for the Detroit Red Wings organization at this particular time of the season. He also mentioned Nick Jensen is drawing a lot of interest around the league. For the record he added Jimmy Howard isn't drawing much attention –Holland missed the boat on this one.
Not only should the Detroit Red Wings not entertain the idea of bringing back Nyquist at this time, but they shouldn't be interested in the idea of signing Nick Jensen to a contract extension at this point of the season. He's having a very nice season for the Wings which should translate in additional draft picks for the team.
Jensen is primarily a penalty killer, he's a shot blocking machine. He is a right-handed shot which in recent years has been a very desirable asset across the league. Jensen is an above average skater, yet struggles to generate any type of offense. Throughout the season he's looked the most comfortable being paired with Danny DeKeyser. The pair play as the Wings second pair but often log more ice-time than Mike Green and Niklas Kronwall.
For the first time in his young career, Jensen is averaging more than 20:00 minutes of ice-time a night. He's playing 20:48 TOI a night and they are tough minutes. By that I mean he isn't playing on either of the teams' power-play units. He's playing the PK; he's playing against the opponents top line at times. I was entirely wrong on this one before the season started. I was calling for Jensen & Ericsson to be the odd men out. Jensen started the season in the press-box and has impressed most of us ever since.
The most intriguing thing about Jensen is that he will essentially be a "free" rental for whoever decides to acquire him. His season cap hit is 813K, what a bargain. The Detroit Red Wings will have paid about 75% of his contract. On the season he's notched 2 goals, 13 assists totaling 15 points and is a plus 1 on the season. He's also blocked 79 shots on the season.
Jensen would be a perfect, reliable third pairing defender. Yesterday the Washington Capitals traded for Carl Hagelin; they gave up a third round pick and a future sixth-round conditional choice. I understand Hagelin is a forward, but he's only recorded 2 goals and 8 points on the season, yet fetched a third round pick? This gives me hope that the Detroit Red Wings should be able to receive a third and potentially a prospect for Jensen.
At this point, there is no point in keeping him or extending him. If the franchise is interested in a reunion, why not wait until July 1st? I feel that there are better options that will become available. The Wings should be intrigued more about players like Jake Gardiner, Tyler Myers and maybe just maybe Erik Karlsson. Holland loves the phrase "kick the tires" he should do that with these defenders before extending some of our own.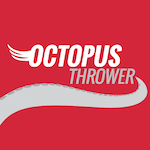 Want your voice heard? Join the Octopus Thrower team!
Write for us!
It's time for Ken Holland to swallow his pride and change his way of thinking. Stop the chatter and desire of resigning our own before the trade deadline. Now is not the time for this, if you can't find a trade partner for these pending UFA's then get the jump on contract discussions if that's the plan but not BEFORE Monday!