The Leafs once again interested in Detroit Red Wings Luke Glendening
The Toronto Maple Leafs once are inquiring for the services of Luke Glendening. Will they want to pay the steep asking price the Detroit Red Wings desire in return for his services?
Similar to this time last year the Toronto Maple Leafs are looking to add a bottom six forward. Last year the Leafs asked about Luke Glendening but decided to add Tomas Plekanec who didn't exactly work out for them. The Detroit Red Wings will seek a similar return as Brian Boyle who just went to the Nashville Predators for a second-round pick.
Boyle although is a physical force, good in the dot and is a trustworthy penalty killer, failed to score in each of his last two postseasons. Players like Boyle and Glendening are not exactly relied upon to score, that being said a second round pick for a grinding center is a steep asking price. It benefits the Detroit Red Wings greatly that Boyle had already set the market and it gives Ken Holland a place to start.
Two years ago the Leafs added Boyle himself as a rental but was unable to resign him, so Mike Babcock apparently loves to add these veteran centers for the stretch run. Maybe we shouldn't blame Holland completely for the additions of players like David Legwand, Erik Cole in the past. With Babcock's willingness to add veteran forwards, he could have had a great impact on some of the Detroit Red Wings roster decisions as those previously mentioned. Luke Glendening is 29 years old with a cap hit of 1.800 million and is under contract until 2021-22.
It seems the asking price last season for Glendening was similar to this year, a second-round choice and at the time General Manager Lou Lamoriello was unwilling to make a move. The Wings checking center is having a solid season playing nearly 16:00 TOI minutes a night primarily as the teams' third line center.
As per Frank Seravalli of TSN.ca, the Leafs are up against the cap and don't have the flexibility to add a player making nearly 2 million per season. He suggests the Detroit Red Wings could sweeten the deal but retaining half of Glendening's salary and maybe acquiring a player in return.
A couple of players that have been floated around are right-winger Connor Brown and center Frederik Gauthier. Gauthier is set to make the league minimum next season 675,000. He would be directly the player Glendening would be replacing in the Leafs lineup. At 23 years old he can still potentially shape the offensive part of his game, but he's only achieved a pair of goals on the season.
Connor Brown has more offensive upside and would skate as a top-nine forward right now with the Detroit Red Wings. He's having a bit of a down year, but he's also down the pecking order these days playing for his home town stacked Maple Leafs. Brown makes 2.100 million per season and is under contract next year. After that, he will be a restricted free agent, so the 25-year-old winger is under team control for still some time.
The Toronto Maple Leafs have already parted ways with their first-round pick in the upcoming draft, so I feel it is doubtful they will be willing to move their second as well. So, in my opinion, a deal for Glendening and some salary retained for the Leafs second-round pick will be off the table. That being said I could see a scenario where the Detroit Red Wings keep salary and move Glendening to the Leafs for Brown and a third-round pick.
I have no problem retaining some salary, but I wish it were for a player(s) like Darren Helm or Justin Abdelkader who both have much higher cap hits. Their salaries as is, make them impossible to deal and yet we may have to retain money on a 1.8 million dollar player rather than Helm (3.85) and Abdelkader (4.25).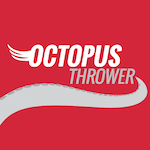 Want your voice heard? Join the Octopus Thrower team!
Write for us!
Both players also have a famous Ken Holland no-trade clause which further complicates things. By retaining salary and moving either of these players Holland would be admitting a mistake, something many people are reluctant to do, it would be a blow to the ego, and I can't see Holland being prepared to do so.