Detroit Red Wings: Has Nick Jensen earned himself an extension?
Nick Jensen started the season as the Detroit Red Wings seventh defenseman; things have changed drastically throughout the season. He's become one of the most dependable defenders on the roster.
As the trade deadline vastly approaches, the Detroit Red Wings will have many decisions to make, Nick Jensen being one of them. The 28-year-old defenceman was never a top prospect type defender in the Wings system.
He's never been too flashy although he is an above average skater. He picks and chooses his spots to pinch in the offensive zone and rarely puts himself out of position. He plays like a stay at home defenceman, but his skating ability would allow him to rush the puck a bit more often if he chose to do so.
Last season Jensen played in 81 games, yet was unable to score a single goal. During the offseason, Jensen saw the writing on the wall with all the younger prospects the Detroit Red Wings had in their system. It's as if he knew he would likely start the season in the press box unless he proved he deserved to play.
In the offseason, Nick Jensen hired a shooting coach to try and help him offensively. He scored a pair of goals early in the season after he'd been scratched on opening night in favor of the likes of Dennis Cholowski, Libor Sulak, Filip Hronek, and Joe Hicketts. The problem is he hasn't scored since.
He won't make his money scoring goals though; he's proved his worth this season working on the penalty kill. He leads the Wings with 64 blocked shots on the season. The only player who averages more minutes per game on the penalty kill is Trevor Daley. He's third among Red Wings defenders in average ice-time with 20:45 TOI per game. His CF% is right at 50%, which is respectful especially on a team that is expected to be in the draft lottery mix.
Ansar Khan of Mlive.com recent caught up with Jeff Blashill to talk about Nick Jensen's play;
"His strengths are his ability to skate and close on people, he uses his skating as a defensive weapon," Blashill said. "He's done that on a pretty consistent basis. I thought he got away from it around the time we lost in Washington. He's got back on track with it where he closes on people hard. I think he can close on people in the D-zone and eliminate, and he's been a real good penalty killer. With injuries, opportunity has arisen, and I think he's made the most out of that opportunity."

"Nick is an excellent defender by the way that we want to defend, gapping through the neutral zone, closing on people in the D-zone. If you don't create stalls, you spend the whole game in your end. He can create a stall because he's strong and he's tenacious. If you don't gap and end plays early, you got to sort out odd-numbered situations, which is probably the No. 1 way teams score in the league. He can do that. He's a real competitor. So, there's lots of positives to Nick's game."
There is no doubt Nick Jensen is a bargain at 813,000 dollars this season. Ken Holland needs to decide whether or not to resign Jensen or trade him over the next few weeks. Teams will be calling, but Jensen's style of play won't fetch the Detroit Red Wings anything immense in return. I would expect a mid-round pick, a fourth or fifth round choice.
Ken Holland needs to gauge what he'd want on a new deal if he would settle for say 2-2.5 per Holland would likely be very interested in bringing him back. I wouldn't want to pay much more for a one-dimensional defenseman with limited offensive abilities.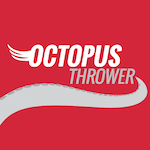 Want your voice heard? Join the Octopus Thrower team!
Write for us!
He could be a solid piece moving forward and should be reasonably priced if the team elects to retain him. He can help the wave of young defensemen that are coming in the next couple of seasons. Although he's 28-years-old, this is only his third NHL season; we could actually see him continue to improve and shape his game a bit more in the next couple of years.