Filip Zadina not Thrilled with Detroit Red Wings Decision
The young rookie forward and 6th overall pick Filip Zadina seems disappointed with the Detroit Red Wings decision to send him to the Grand Rapids Griffins.
The call can surely leave a bad taste in your mouth, being told you're not good enough. Starting Filip Zadina in the American Hockey League is anything but a slap in the face. It's a good league; it is a place for young players to grow and veteran players to remain ready. It is a place some players make a living. The Detroit Red Wings want to see growth in Zadina rather than see him struggle in the show.
The sky is the limit for Zadina; this is just a bump in the road. Zadina only was able to record 3 points during 7 preseason games. Zadina, after he was told by the Detroit Red Wings staff, reacted somewhat surprised by their decision.
The young forward entered his first preseason appearance looking sluggish at times. He was quickly knocked off stride and struggled to create any offense. Jonathan Toews picked his pocket early and had a break streaking in off the wing before Zadina even realized the puck was gone. It was one of those rookie moments for sure. Toews didn't score on the play but it left us realizing within seconds here is this kid with all this potential having a rookie moment.
Zadina admitted he wasn't prepared for the pace of play. He mentioned the speed was significantly quicker than junior.
Ben Simon who is entering his first season as head coach of the Griffins had a great quote talking about comparing junior hockey to the American Hockey League where Zadina will start his professional career. Per Peter J. Wallner of Mlive.com;
"When we're talking about time and space and creating space, he's going to have to get bigger and stronger," Simon said. "He's competing against men now. He was playing against 17-, 18-year-old kids. Now he'll be facing 34-year-old guys who are playing essentially to feed their families. He knows that. It's just a matter of experiencing, it, learning and adjusting as he goes along."
Zadina needs to create more scoring opportunities for himself; he needs to create space and continue to be steady on his skates. He did continue to grow and gain confidence in the 7, preseason games but was far from dynamic. He would often be knocked off the puck by established players. At times Z was pressing, and you could tell he was gripping his stick.
Zadina reacts to the news;
"They talked to me like two days ago and told me I was going down and I was like OK," Zadina said. "… I probably don't know if I was expecting this, that they were going to send me down. They did that, they made a decision and now it's up to me."

"So, yeah, I will work on those things," Zadina said. "I'll do my best here and help the team to win games and hopefully they will call me up at some point."
It is a simple formula here for Z. He will have an opportunity to work on the areas the Detroit Red Wings ask him to improve on. Zadina will play on the Griffins top line along with veteran Chris Terry who led the AHL in scoring last season.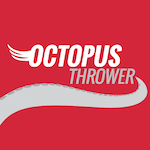 Want your voice heard? Join the Octopus Thrower team!
Write for us!
He will be in a great spot to produce, and once he has proven to be a prolific scorer in the AHL, the Detroit Red Wings will come calling. If Zadina opened camp confident and showed the same dynamic abilities he had in Junior he would still be here. He was tentative, he will benefit in the long run playing 20 or so minutes a night in GR rather than 10-12 in Detroit against elite talent where scoring chances are limited.