Detroit Red Wings: Mike Green Looks to Mentor Young Teammates
Mike Green was the second highest ranked defender available this summer during the free agency period. Green chose to re-sign with the Detroit Red Wings.
The Detroit Red Wings decided to bring back Mike Green this summer. Green, the one-time dynamic offensive defenseman, was often considered one-dimensional. Green lacked defensive responsibility.
Mike Green started his career with the Washington Capitals at age 20. At age 23 Mike Green scored 31 goals, 18 of which were recorded on the power play. Green would often be caught pinching in the o-zone, in return allowing his opponents an odd-man rush.
Mike Green was never considered a "sound defender." Green's offensive ability would make up for his lack of defense. As Mike Green has aged, he has become a much better player in his own zone.
Green has shown the ability to make an excellent first pass exiting the defensive zone. Mike Green has indicated his willingness to take a hit to make a play as a member of Detroit Red Wings. Something he would be leery of accomplishing earlier in his career.
Green, now picks and chooses his spots to pinch in the offensive zone. Mike Green is back playing as a number one defenseman on an NHL team. Green logged over 22 minutes a night for the Red Wings last season and north of 23 minutes two seasons ago.
Green had an opportunity this summer to choose a new home. Green could have decided to play for a contender. Mike would have been a power play specialist and a depth veteran defender on a playoff team.
Mike Green signed a two-year deal to remain in Motown. This is a Detroit Red Wings fan base that is starving for something to cheer about, something to again look forward to. This is a fan base that is tired of seeing long-term deals awarded to mediocre players.
People question the Detroit Red Wings for bringing Mike Green back. Mike Green chose Detroit.
In a recent article published by Ansar Khan of Mlive.com Green talked about why he wanted to return to Detroit;
"I love it in Detroit. I love the organization, I love the culture, I love the guys. I think it's easy at times to go somewhere else, especially with the transition that's going on in Detroit, but I feel I can be useful in the next couple of years to help the younger guys develop quicker and speed up that process."
Mike Green along with Danny DeKeyser will serve as the Detroit Red Wings top two defenders. Green has an opportunity to help the young defenders coming up through Detroit's system over the next couple of seasons.
Green will be able to serve as a valuable mentor to a player like Filip Hronek in particular. Hronek is expected to make the Detroit Red Wings roster to start the season. Hronek, similar to Green is considered more of an offensive defenseman.
Mike Green is a guy Hronek can watch command the power play on a nightly basis. A role the Detroit Red Wings down the road may ask Hronek to fill after Mike Green eventually departs.
Mike Green signed a two-year deal with a cap hit of 5.37 million per season. Green's previous Red Wing deal was a three-year commitment at 6 million per season.
The Detroit Red Wings were unable to move Mike Green due to a neck injury this past season. Green will again be a player Detroit will try to trade as a rental player on deadline day during the 2019-20 season.
It's a beautiful thing to see players wanting to play in Detroit again. For a long period, Mike Babcock was unable to find players that wanted to play in Detroit with a willingness to accommodate his stringent demands.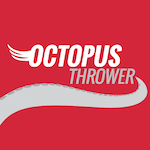 Want your voice heard? Join the Octopus Thrower team!
Write for us!
Mike Green had an opportunity to leave knowing Detroit is in the midst of a rebuild. Green decided to stay; he seems to want to embrace a new type of role later in his career. Mike Green can be a valuable piece moving forward for the Detroit Red Wings.