Detroit Red Wings: Defense Pairings, Prospects Pushing for a Spot
The Detroit Red Wings have four defenders whom will play night in and night out unless injuries occur of course. The Detroit Red Wings, as we know are thin on the back end, to begin with. Is help on the way or will it be the same six regulars as last season?
The Detroit Red Wings will expect Mike Green to play substantial minutes again this season. Niklas Kronwall who has been a warrior throughout his career will be needed for top 4 backend minutes again too. A leader and most say a calming voice in the locker room always making sure things are smooth making newer players feel welcome.
Nick Kronwall has broken down some physically these days, fought through a leg injury all of last year. Kronwall has lost a step but can still be relied upon to make the right play. If it's making a safe, clean first pass out of his own end, picking his spots to pinch in the offensive zone or when to step up and engage physically.
Kronwall will benefit along with being most effective playing 17 or so minutes these days a night if Detroit can hold him around that ice time. Last season Kronwall averaged 18:31 a game. It was a sign of things to come with an aging defenseman. Kronwall's career avg ice time was 21:52.
The "Kronwalled" bone-jarring hits are few and far between now but were they ever awesome to watch. The best days playing along Brad Stuart who could be nasty and physical in his own right are few and far between. That second pair over the boards for Detroit were Stuart & Kronwall after Brian Rafalski & the great Nicklas Lidstrom finished their shift was such a great top 4 for Detroit for many years.
Mike Green will anchor the point on Detroit's number one power play. Green has worked on his defensive zone play over the last three years in Detroit and has improved in his own zone. At one time Mike Green was a prolific offensive player but lacked defensive ability in his own zone.
Green will be asked to play significant minutes for Detroit again this season. He averaged 22:05 min per game last year. That is about what Green has averaged his entire career. Green a good puck moving defenseman who can score 10-12 goals for Detroit. The Wings very much need more offensive production from the back end.
Danny DeKeyser who has owned up to his up and down play over the last two seasons is looking to bounce back and become a steady top 2 defender on this roster the Red Wings much need. I say on this roster because Detroit doesn't currently have a workhorse on the back end that can play 28-30 minutes a night like the premium top defenders in the league do. Detroit needs to get it done by committee.
Danny DeKeyser is 28 years old. Danny has the potential still to plug 24 good minutes a night for Detroit. The excellent skating lanky defender will be needed tominimize the "downs" in his play and be consistent across the board. We think he could be a valuable piece if he plays relaxed and confident.
The one-time fluid skating Trevor Daley is still a reliable defender who turns 35 this October. I refer to him as one-time fluid because in his Dallas Stars days Daley was one of the better skaters on the ice any given night. At 35 Daley isn't what he was at 25, but he's still an above average skater.
Daley last year played 20:42 a night. The Detroit Red Wings will need around 19-20 a night again from Daley this season. Daley more of a defensive defender these days but still has some scoring touch left. Daley started 58% of his 5 on 5 shifts in his own zone last season.
Last year Daley scored 9 times but only accumulated 16 total points. If Green & Daley somehow could combine for 20-24 goals from the backend, it would be a welcoming boost to the offense.
This is where things get dicey. Jonathan Ericsson is the guy a lot of fans wish would disappear as he often does on the ice. Ericsson carries a 4.25AAV salary, and at times it seems its anchored to him weighing him down as he struggles to skate and keep up with the pace of play.
Ericsson who is under contract for two more seasons becomes a problem in a couple of ways. Detroit is reluctant to buy him out we've heard in the past as Kronwall & Zetterberg speak up and defend their countryman. The problem this year is Detroit has a couple of young players clawing for a roster spot, and Ericsson may prevent them from one.
Last season Ericsson played 19:19 a game. Ericsson started 61% of his 5 on 5 shifts in the defensive zone. Ericsson is a one-dimensional defender who has no offensive capabilities. He played more minutes than Kronwall which again shows how much Nick was laboring. I don't think Detroit will put Ericsson on waivers although I think he'd clear. If some team did decide to claim him it would be great to clear up some cap space it would just be unexpected and unlikely.
Detroit could use Ericsson as it's 7th defenseman and have him start the season in the press box. Or Detroit could just send him down after he cleared waivers which the veteran players would not be in favor of. If Detroit was willing to deal with the in lockerroom pushback that would be an option.
Nick Jensen may be the odd man out for a youthful player. Jensen who looked good in stretches for Detroit but played the fewest minutes a night as a regular. Jensen played 81 games failed to score a goal but had 15 assists. Jenson played 16:15 a night for Detroit and was a minus 8.
I expect Filip Hronek to push Jensen for the 6th defenseman spot on the team this preseason. Hronek is turning 21 years old this season. Hronek is a right-handed shot which is in his favor as well. Last season was Hronek's first full season as a professional. He posted 11 Goals 28 Assists totaling 39 points for the Grand Rapids Griffins last season. Hronek was also a plus 24 on the season.
Detroit may choose to keep Jensen in the lineup over Ericsson, but I find it unlikely unless Jeff Blashill is serious about a youth movement in Detroit.
If Blashill & Holland are truly committed to youth Dennis Cholowski should get a legitimate look this preseason along with Hronek to field Detroit's bottom pair. I wouldn't imagine Detroit would play two young rookies together, but they would play 5th & 6th Defense minutes if they were able to make the team.
Pairings we want to see; Kronwall/Green, DeKeyser/Hronek, Daley/Cholowski with Ericsson in the press box. Pairings we, unfortunately, will see; Kronwall/Green, DeKeyser/Daley, Ericsson/Hronek with Jensen as the 7.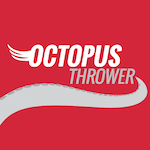 Want your voice heard? Join the Octopus Thrower team!
Write for us!
It will be an exciting pre-season, it will be exciting to see some of these unfamiliar young faces push the older defensemen for a job. I'm in favor of a youth injection on the Detroit Red Wings back end, and I hope the Detroit Red Wings front office allows some of these guys an opportunity. It's time to take the training wheels off and let a 21-year-old in the lineup on defense.