Detroit Red Wings: Free Agency: Grading Jonathan Bernier
The Detroit Red Wings signed Jonathan Bernier to what one could guess split time with Jimmy Howard. Bernier is anything but an "upgrade" in goal. Is Bernier worthy of a 3-year obligation?
The Detroit Red Wings signed Jonathan Bernier this summer to a 3-year deal worth 9 million dollars. A 3 million AAV for a "back-up" goaltender seems quite much. The idea of a middle of a road goaltender as the future is also a stretch.
You may wonder why the heck did the Detroit Red Wings sign Bernier then. It has the idea of a "placeholder" feeling all over it. Detroit didn't have an NHL caliber; second goaltender rostered for this up and coming season. The numbers suggest Bernier is a Jimmy Howard clone just four years younger.
Bernier is 29 years old posted a mediocre 19-13-3 record last season for Colorado. More importantly, a save percentage of .913%. A goal against average of 2.85 which is the same as Jimmy Howard.
In comparison, Howard last season was 22-27-9 with a save percentage of .910%. Those statistics very similar. It places both of these goaltenders ranked around 25th or so league wide. Therefore a 3-year contract seems like kind of a reach for Detroit.
Detroit still in search of their next goaltender and with Jimmy Howard going into the last year of his contract, there is no guarantee that Howard will be retained in Detroit. Howard finishing his 5.29AAV million per season in comparison to Frederik Andersen in Toronto who makes 5.00.
According to Bernier's contract & production Jimmy Howard now knows what he can expect next season when he becomes a free agent. Howard next summer will be 35 it would be shocking if he finds a home for more than 2.5 million per, next season.
Detroit should have entertained the thought of bringing in a goalie on a 1-year deal rather than securing a back-end starter for three years. Robin Lehner is 27 years old this month and granted posted ugly numbers but remember it was for Buffalo. Don't forget the whole Buffalo team was just terrible last season. Lehner's numbers weren't that far off from Bernier or Howard.
Lehner signed a one year deal with the New York Islanders for 1.5 million. Another option should have been the number one priority. Carter Hutton whom would have been a significant upgrade in goal. Hutton posted awesome numbers for St.Louis last season .931 save percentage to go with a 2.09 GAA. Hutton 32 years old also signed a 3-year deal for 2.75 AAV with Buffalo.
Yes you have read that correctly. Hutton signed a 3-year deal for LESS money than Bernier. Detroit missed out on this one. The idea of having a placeholder while you search for a younger option to be the future why not have the best available goaltender for at worst the same amount of money?
Johnathan Bernier: C-
Ken Holland and the Detroit Red Wings get a C- on this signing. Detroit is in no way shape or form upgrading the position. Detroit has locked themselves into a 3-year deal for 3 per when they could have gotten similar production for half the price and not nearly as long of a commitment. Holland could have acquired a better placeholder for the same money. The only reason it's not a "D" grade is the position need. Detroit needed a second goalie and at least have that with Bernier.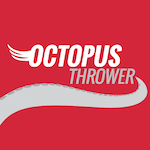 Want your voice heard? Join the Octopus Thrower team!
Write for us!
Detroit is putting Jeff Blashill in a position of which middle of the road goalie to start each night. I guess the best thing is Blashill doesn't have to worry about which number to call because they are the same.