Detroit Red Wings: Jeff Blashill to lead U.S. National Team
Detroit Red Wings head coach Jeff Blashill would like to have his number one center with him when he heads behind the bench of the U.S. men's national hockey team.
For the third straight season, Detroit Red Wings bench boss Jeff Blashill will be the head coach of the National men's hockey team representing team USA. The first thing that stands out is the fact that Blashill doesn't have a playoff series to compete in or prepare for allowing him to assume the position behind a bench not occupied by Red Wings players.
It's the third consecutive season the Detroit Red Wings will miss the NHL playoffs after a string of twenty-five straight postseason appearances. As I watch the playoffs without the Wings participating it tugs at the old heartstrings, Wings fans have been spoiled for so many years and we the fans are being humbled a bit, but things are looking up.
Jeff Blashill has guided Team USA to a Bronze medal and a fifth-place finish during over the last two seasons with his eye on gold in 2019. Through 18 games Blashill as a stellar record of 12-2-0-4 but has failed to win the big game. Does that sound familiar? The first issue is Jeff Blashill has been unable to get the Detroit Red Wings into a position to win a "big game."
USA's general manager is former NHLer Chris Drury and in an article published on DetroitRedWings.com had this to say about Blashill;
"It's terrific to have Jeff back coaching our national team," said Chris Drury, general manager of the 2019 U.S. Men's National Team. "He's an excellent leader and is well-versed on what it takes to be successful on the international stage. We're also fortunate to have a terrific group of assistant coaches and support staff that will represent us well in our ultimate goal of bringing the gold medal home to the United States."
Dan Bylsma, Wings assistant coach, will also join Blashill's coaching staff along with the New Jersey Devils head coach John Hynes and USA's Director of Player Personnel for the National Team Development will make his coaching debut as an assistant coach.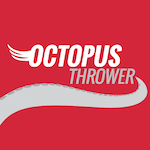 Want your voice heard? Join the Octopus Thrower team!
Write for us!
The way I see it is, look at this as more practice for the Detroit Red Wings head coach. Coaching alongside John Hynes could also help Jeff grow into a better coach. He's very comfortable with Dan Bylsma, but it is possible the pair could pick up on something while coaching with other coaches. If they don't find a way to reshape their coaching style within it is possible they could pick up on things coaching in a tournament such as this.