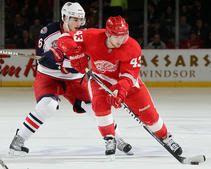 So this one is going to be different than yesterdays recap. I don't like to do the same thing over and over. So I am writing this as I watch the game. So you lucky fans are getting an up to the minute play by play coupled with how I feel about it.
First Period
I was just settling down to watch the game, a minute in, running a little late, and we already are at 1-0 Colombus.We are not looking good on the defense. Big surprise. And clitsome scores. Wow 2-0. Tatar is looking good out there, it looks like the 4th line is the best one out there again. Looks like we are starting to pick it. Miller is stirring the pot started a good scrum by the boards. And we are going on the power play after Brassard got a slashing call. Power Play is looking good with the exception of Hudler. I don't even know why Babcock even puts Huds on the Power play. He refuses to shoot if the goalie is in the net. And Franzen knocked the net off the moorings. The penalty is over, full strength. The Red Wings are looking good now. It's funny how being down by two in the first at home will do that to you. I guess I shouldn't complain, how many other teams could play half as good missing 7 regular players, including their starting and backup goalie. Lidstrom pulled a Hooking? Against nash!? Garbage. Alright and were on the kill without Lidstrom. And we killed it. Whew! Eaves looks good out there on the first line. Franzen tackled Vermette by the bench, no call. Filppula scored a one timer off a wicked feed from Bertuzzi. 2-1 Colombus. And were tied up. Miller put the puck out from behind the goal line and mason turned and it bounced of his pad and in. Wow! Oh well we'll take it. Tied up at 2. A side note, that was Draper's 200th career assist. Good job Drapes! That's also 2 goals in as many games for young Miller. That's the buzzer. We started slow like normal lately, Atleast we picked it back up earlier than we have been. We got ourselves a game now.
Second Period
And were going. Puck dropped. Third line out. Lots of back and forth. Z got knocked off a nice looking backhand. Blue jackets score. 3-2 Colombus. Abdelkader looking good. That 4th line is dangerous. Getting good chances. And Ericsson tied it up with another bounce off of Mason. And Helm gets his second assist. Look at that, ericsson getting involved offensively, behind the net. 3-3. This is starting to look like its going to be a high scoring game. Macdonald is starting to look comfortable in the net now. And Rafalski scored, coming up giving them a odd man, and we are 4-3, for our first lead of the game. Miller got another point with the assist, and ericsson as well. Alright we can work with this now. Its good to see our Dmen coming out and working offensively. Were half way through. Eaves got slammed by Brassard pretty good, no call. Macdonald is coming out of the crease pretty good, challenging shooters, love it. Do what you can Mac, our shooters will have to pick up your slack. At this point, my fantasy roster aside, I don't care how we get the two points. Miller wants another, he's working hard out there. Apparently Mac is a 2nd and 3rd period goalie. He didn't look good in the first but he's solid in there now. Zetterberg is making some outrageous passing plays out there. That's why he's one of the better playmakers in the league. His vision is insane. Blue jackets just realized they wanted to score with 2 minutes left, there starting to get some good chances. All stopped by Mac. Z gets a tripping with 10 seconds left. Looks like were going into the 3rd with a pk. That's the second. Shots on goal after 2, 23 Wings 22 Colombus.
Third Period
Pk is out and were underway. Power play goal by Umberger after Colombus owned us in the zone on that PP. Tied up at 4. I don't blame you Z. Mac is letting out some juicy rebounds. Bad move Mac. Get your act together atleast until we get a couple more in. Three on two chance, and…. score! Draper got the goal. Miller and Lidstrom assist. 5-4 Wings. That makes 4 out of 5 goals that Helm has been out there for. That's one stat that'll look good on my fantasy roster. That also puts Lidstrom 1 up on byufuglien for most points by a defenseman. Good job Lidstrom. Going back and forth pretty good. Come on guys keep it out of there. Your gonna need at least one more. Helm got a good hip check on Voracek. Love it. Miller is really trying for another, he's got 3 points already. And we got a scrum their not happy with the mule. Who is that isn't a Red Wing? This 3rd line is something else, Miller, Draper, and Helm. They are working their asses of out there. 3rd line out again. 2 minutes left. Mason is gone, nets empty. Come on guys. Timeout. Alright we got lidstrom, Z, Filppula, Kronwall, Franzen. And Nash scored with the extra attacker. Tied up at 5. The announcer keeps calling Mac, Howard. That's third, and were going to the OT. And Nash is trying to argue what he thought was a wrap around goal with the ref. Official call, no goal. Were going to OT.
Overtime Period
FRanzen and Z out for the wings. Franzen scores top shelf, assist by Z 44 seconds in Red Wings Win 6-5 in overtime. Good clutch goal Mule.
Well it was dirty, but you can't really ask for anything better at this point in time. Once we get some of our guys back maybe we can get some games wrapped up with a nice bow. Till then, ill take em however we can get 'em. Go Wings!
Tags: Detroit Detroit Red Wings Drew Miller Helm Joe Louis Macdonald Mason Nash NHL Salei Zetterberg