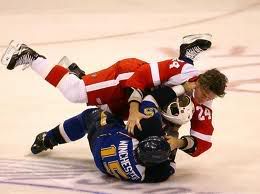 St. Louis comes to HockeyTown as the Detroit Red Wings try to end their five game homestand on a positive note. Coverage begins at 700 PM(EST) on FSD, Opening faceoff is at 730. There are some good storylines heading into this game, let's take a look:
– Joey Macdonald will have his 2nd consecutive start tonight, as the Red Wings are being cautious with the upper body injury of Jimmy Howard. However, they can afford to. Joey Macdonald has been impressive both in his starts, and in relief of starter Jimmy Howard. He has played 14 games total and boasts an impressive 2.13 GAA and a .924 Save%. That's not bad, I feel more comfortable everyday with the possibility of Osgood not being ready come playoff time.
-Todd Bertuzzi will play tonight. Mr. Campbell decided that his game misconduct penalty in Mondays OT loss to Chicago was punishment enough. How Odd.. I was all set to be mad about it, and had even started working on a post about it, but, im glad to see the league not just looking at the name on the jersey.
-Nick Lidstrom did record his 60th point on the season. Making him the first defenseman in NHL history to hit 60 points after his 40th birthday. So, Congratulations Nick!
-Datsyuk is still out tonight, as is Jimmy Howard. Both expect to play Saturday in Nashville. Take your time Pav, were going to need you bad come playoff time.
Here are the anticipated lines for tonight:
Hudler-Zetterberg-Cleary
Franzen-Filppula-Bertuzzi
Holmstrom-Modano-Abdelkader
Miller-Helm-Eaves
Lidstrom-Stuart
Ericsson-Kronwall
Kindl-Rafalski
MacDonald (starting)
McCollum
Alright, we head into this one still hanging on to 2nd in the west, and at the top of the Central Division. We need this one, we have to prove to the league how dangerous it is to come to Joe Louis! For the view from the other bench check out Bleedin' Blue, A great St. Louis Blues site on the Fansided Network, and be sure to check us out on Twitter ! Let's go Wings!
Tags: Bertuzzi Cleary Datsyuk Helm Lidstrom Macdonald NHL Red Redwings St. Louis Wings Zetterberg