The Detroit Red Wings defeated the Toronto Maple Leafs in a 4-2 win at Joe Louis Arena Saturday night. Ending their own losing streak at 3, and ending Toronto's win streak also at 3. Though the Maple Leafs went into this game 10th in the East, they have a last 10 games record of 7-2-1. So ill call it a Solid Win, against a hot team and a hot goaltender. Here are your tidbits from the game: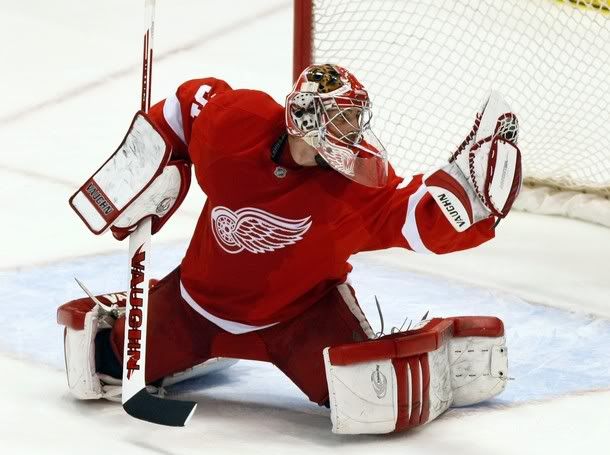 -First and foremost Jimmy Howard had to head off the ice in the 3rd due to an undisclosed upper body injury. We probably wont know the extent of it till tomorrow, but hopefully it isn't too bad. I don't want to have another stretch of Grand Rapids goalies. Its not that I don't believe in Macdonald(I have him on my fantasy roster for christ's sake!), its just I don't want to see Mac D in net to start the playoffs. So sleep it of Jimmy!
-Another fighting tally tonight, this time from Abdelkader after a huge legal check to Brian Rafalski. That brings the Wings fight total to 11 on the season. That's a league low. But you know what, leave that have to get physical and fight to win a game to those neanderthal Eastern Conference teams.
-Lupul landing on Jimmy and then reaching out and pushing the puck in while he is squarely on top of him?! What the F@$%?! Oh well, it was a pretty sweet goal. Just kinda sensitive about refs not calling off goals.
-Nicklas Lidstrom tied the NHL record for most points in a season from an over 40 Defenseman. He now has 59 points on the season. 1 more point and he will be the sole owner of that record. Congrats on that and the Street.
Overall, real good win. Went out and battled hard for 60 minutes. Our special teams were amazing. Really made me think we are ready for this playoff run. Alright, now let's get focused on this Chicago game on Monday! Give 'em Hell Boys! Go Wings!
Tags: Abdelkader Detroit Lidstrom Maple Leafs NHL Nick Lidstrom Red Redwings Toronto Wings