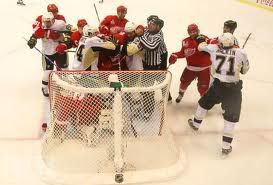 Is it possible to have a true rivalry outside your conference? If not, the Detroit Red Wings are the closest thing to it with the Pittsburgh Penguins. Also if it is not a true rivalry for the Red Wings, it is for my family. As a lifetime Red Wings fan and growing up in Michigan, My brother grew up the same way and somehow turned out a die hard Pittsburgh fan. Weird, I know. So this is my favorite game, every year, except playoffs (if you could imagine my house during the 08 and 09 playoffs!)
Both teams go into this with a loss in the last game. Both teams also are without key players, however, the Penguins have had time to cope with many of their injuries. Crosby has been gone since January, and Malkin has been out over a month now. The Red Wings are missing Franzen, Pav, and Hudler for the second game in a row. On top of this we do not have cap space to get any griffins.
So again we will be running 11 forwards, not ideal. On Saturday, against Columbus, Detroit was playing one of the least physical teams in the league. Tonight Detroit takes on one of the dirtiest team in the NHL. This time, however, with the return of Salei, we will dress 7 defenseman. Wont really help the forwards from getting pummeled too much(not as much as Matt Cooke being out), but it'll help the D-men from getting too wore out. And when we play Pittsburgh or any of the dirtier teams in the East, its usually better when we have our Mule. But the Wings will do what they can. The Red Wings lines should look like this tonight:
Cleary-Zetterberg-Holmstrom
Filppula-Bertuzzi
Abdelkader-Modano-Draper
Miller-Helm-Eaves
Lidstrom-Kronwall
Stuart-Ericsson
Salei-Rafalski
Kindle
Howard
Macdonald
And as always for the view from the other bench check out our Pittsburgh affiliate on Fansided Pens Labyrinth !
Come on Wings, start this Home stand off right! And please, let me have some dignity in my family tonight… Go Wings!
Tags: Detroit Red Wings NHL Penguins Pittsburgh Preview Wings