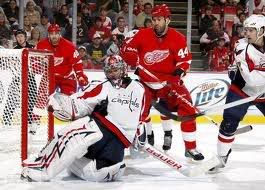 Eight years ago, A young Alex Ovechkin scored a hat trick on a Young Jimmy Howard at the 2003 World junior championships. Tonight Jimmy WILL reclaim his dignity for his 15 year old self.
The other big story going into this game is our full, HEALTHY 23 man roster. Here's the rundown:
– Osgood who was earlier today reported as in the line up, will NOT be in the lineup tonight. Joey Mac has been recalled back to the Wings and will backup Jimmy another game.
– Patrick Eaves is healthy, however, he will be scratched for tonights game but will most likely play thursday.
– Rafalski is back, and oddly enough he is on the third pair with Kindl. But on a positive note, the red wings now have Lidstrom, Stuart, and Rafalski on different lines, which means one of them will be on the ice at all times tonight.
– Datsyuk and Z-Berg are split up again, most likely in an attempt to make sure one of them is on the ice when the Ovechkin line is out. Babcock has previosly stuck Zetter with Ovi every time. We'll have to wait and see what Uncle Mike does with matchups.
Here are the lines the Red Wings have practiced with the last few days:
Franzen-Datsyuk-Holmstrom
Cleary-Zetterberg-Bertuzzi
Filppula-Modano-Abdelkader
Hudler-Helm-Draper
Lidstrom-Ericsson
Kronwall-Stuart
Kindl-Rafalski
Howard (starting)
Osgood
Scratched
Salei, Miller and Eaves
The Capitals go for their 10th straight win tonight. Let's make sure they don't get it! Go Wings!