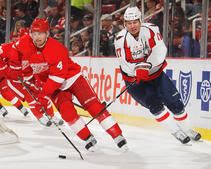 In one of the best matchups of the season, The Red Wings stop the Washington Capitals from getting their tenth straight win, and the red wings have 3 straight.
The Red Wings edged past the Capitals, and broke a tie at two going into the third to take a
3-2 win at home. Here are some high points from the game:
– Welcome back Brian Rafalski! Rafalski took an assist on all three Red Wing goals, making his multi point game total this season to 9. Glad your back Raf, we missed you.
– Zetterberg scored 2 goals, and did his job at stopping Alex Ovi from dominating the game.
– The Red Wings looked like the Red Wings tonight, the Capitals spent alot of time trying to get the puck away from the Wings. THAT is Detroit Hockey!
– This is what we want to see at home guys! Hopefully we have seen the last of the way we have been playing at home. This looks like our playoff lineup. The lines looked good, the guys are playing well with their linemates.
Great home win guys, Keep it up. We travel to Nationwide Arena tomorrow night to take on the Colombus Blue Jackets Tomorrow night, and then my most anticipated game of the season, the Red Wings VS Pittsburgh game!(my brother is a Pittsburgh fan, which means me and my family will duke it out with him and his family). Good job guys let's finish this season strong! Go Wings!
Tags: Capitals Detroit Detroit Red Wings Hockey NHL Ovechkin Rafalski Washington