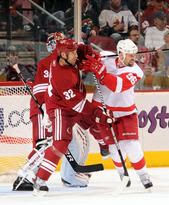 Really!? 4-1 going into the 3rd, turns into a
5-4 Shootout loss?! What the F@%#$?!! Its like the entire team forget about defense and was only thinking about the rush! Okay, their scoring goals so we better score more goals than them? How about stopping them from scoring? When did that go out of fashion? The way we have been playing this entire road trip in the west, im getting chest pains just thinking about the playoffs!
Okay, now that that's out of the way(sorry, needed to get that out). There were some high points to this game(all before the third period). So, congratulations to Nick Lidstrom for scoring his 1100th NHL point! Not too shabby! Also Nick is now tied for NhL points by a defenseman.
Another high point…. Helm! Maybe the greatest goal I've ever seen him score. He has always had that speed, but I think that this season he is finally using it offensively instead of just forechecking and on the Penalty Kill. Good job Helm, keep impressing me, I dare you!
How bout that Mule huh? Franzen got his first goal in 14 games! He hadn't scored since that 5 goal game a few weeks ago. Good job Franzen! Keep up the good work.
Also one of my favorite parts of the game, the new lines! Love 'em! I have been waiting for the Zberg, Pav, and Homer line to come back! And its back. And the 4th line from the beginning of the season is back! Is there any other fourth line in the league like ours? Half our points came from it tonight.
Please everyone, don't blame this one on Jimmy, he played his heart out. He got no help from the team in front of him in that third period. He did get interfered on their first goal I don't care what the Refs say. When somebody is in your crease and you can't get over to the other side of the crease to block a shot, that's a problem. And when that same person falls on you before the puck goes in, that's a problem. Great call refs!
Come on guys, you guys are better than this! We have 16 games left and only 6 of them on the road! Let's finish this strong! Go Wings!
Tags: Brad Stuart Cleary Datsyuk Detroit Detroit Red Wings Franzen Hockey Joe Thornton Johan Franzen NHL Nicklas Lidstrom Wings