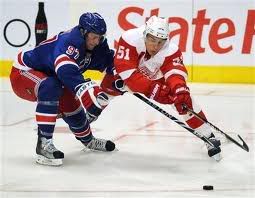 Rangers and Wings tonight at the Joe! Were going into this after two straight 3-0 shutouts. That's not good. One more and the 2011 Red Wings will set a franchise record. The Wings have NEVER been shutout 3 times in a row. NEVER! It does look like Datsyuk is coming back tonight, but they practiced him on the second line. I didn't really like that, but Datsyuk back is Datsyuk back. Now we just need our veteran goalie, our netfront presence, and our stay at home defenseman, you can come back too modano, if you want….
So here are the lines The Wings are running tonight:
Franzen-Zetterberg-Bertuzzi
Hudler-Datsyuk-Cleary
Abdelkader-Filppula-Eaves
Draper-Helm-Miller
Lidstrom-Kronwall
Ericsson-Rafalski
Kindl-Salei
Howard (starting)
MacDonald
All I know for the Rangers is that supposedly Lunquist will not be in the goal. But watch out cause backup goalies have a crazy thing about playing the best games of their careers against Detroit. For a full report from the other side of the fence check out the Rangers preview over at The Blue Line Station Good luck out there guys, Welcome back Pav!