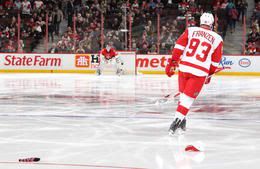 I think the title says it all. What else needs to be said? The Mule has recorded his first regular season hat trick. He has recorded three playoff hat tricks, including one diring last post season against San Jose. He was actually credited initially with five goals in the first period, but they took one away from him and gave the goal to Filppula. Franzen is also now the first Red Wing to score 5 goals in a game since the Great Sergei Fedorov did it in 1996.
"I've only been in here twice, I think, but I scored two goals the last time I was here," he said. "I like this building."
Franzen is the first NHL player to score five goals in a game since Minnesota's Marian Gaborik did it on Dec. 20, 2007. Franzen is the first player to score five times against the Senators.
"Guys were setting me up all night," Franzen said "Hank and Bert didn't want to shoot it themselves, they were just trying to set me up."
Well Mule, My proverbial hat is off to you. Keep up the good work.