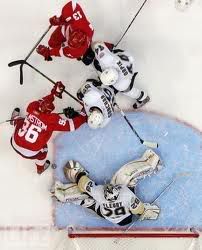 Okay so it looks like Datsyuk and Holmstrom will not be returning friday against the blues. They have been cleared, however, they still do not feel comfortable. Well our guys are still producing so I think well be fine.
"Our big thing here is we can afford to be patient with the people that are injured because we're winning games. If you weren't winning games maybe guys would play when they're still a little uncomfortable. Our guys have been cleared to play but it's just a matter of they don't feel like they can at this point."
–Mike Babcock
Get better guys, the team can shoulder the load another game. But our power play needs you bad.
So the Lineup for tomorrows game looks like this:
Offense:
Franzen-Zetterberg-Bertuzzi
Hudler-Filppula-Cleary
Draper-Helm-Eaves
Miller-Abdelkader-Mursak
Defense:
Lidstrom-Kronwall
Ericsson-Rafalski
Kindl-Salei
Goalies:
Howard (starting)
MacDonald (Backup)
Tags: Datsyuk Detroit Red Wings Hockey Holmstrom Injury Tomas Holmstrom Wings