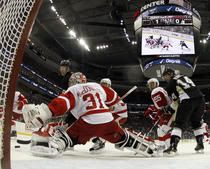 Like we have all grown accustomed to, Detroit started off slow Tuesday night against the Pittsburgh Penguins. This time however, their rally late came up short.
Marc Andre Fleury saved 36 out of 37 shots to give Pittsburgh a 4-1 win over Detroit.
A rookie mistake by a rookie goaltender gave the Penguins a quick lead in the first. Mac held the puck too long behind the net, it was stolen by Kennedy, pushed to Staal in the slot and the Penguins were 1-0. Chris Connor was tripped up by Draper and given a penalty shot midway through the first. Switching from fore to backhand and a quick stuff between Mac's pads, Connor scored Pittsburgh's first Penalty shot in almost four years. 2-0 Penguins after the first. Sound familiar? It should.
We had a total of 3 power plays in the second, but a good play by our 1st line is what gave us our lone goal. Franzen with a wristshot from 15 feet assisted by Z and Eaves put us 2-1 Pittsburgh. It also marked the Mule's team high 20th goal this season. However the goal was quickly answered by Kunitz not 1 minute Later. And we were 3-1 Pittsburgh going into the third.
We had our normal rally in the 3rd, but we just couldn't get the goals. We went 12-4 shots on goal in the third but it wasn't enough. A goalie pull in the third gave Pittsburgh an easy 4-1 win. With Franzen's lone goal he also had a team leading 6 Shots on goal, followed closely by Z with 5. The most interesting stat I saw from the game was the +/-. Our 1 and 2 defenders Lidstrom and Rafalski had a team worst -2. However the 6 and 7 defenders Kindl and Selei had a team leading +1. Not so strange, I have been more and more impressed with this pairing lately.
Good job all around to the wings tonight. These slow starts are going to cut it anymore. We have been getting lucky coming back late to win games in overtime. But im not going to hold anything against you guys till we get some players back. Go Wings!!
Tags: Consol Detroit Detroit Red Wings Hockey Howard Kindl Lidstrom Macdonald NHL Penguins Pittsburgh Rafalski Salei Zetterberg