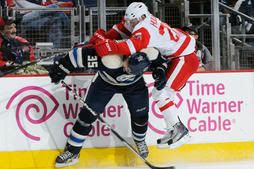 The Blue Jackets ended there losing streak at 5 friday night with a shootout victory over Detroit. An all to familiar slow start in the first, turned into an even more familiar tie up later in the game. However, we did not get the shoutout win this time. This now makes 3 out of the last four games for us ended in a shootout. This is due to our inability to come out of the opening faceoff with anything resembling good defense.
Jimmy let in a soft goal early from Voracek. After a bad tripping call against Huds, ericsson was called for high stcking and we were sent into a 79 second 5 on 3 Penalty Kill. Which Jimmy let a shot by Clitsome deflect off of his glove and into the net. Not long after a Brassard slapshot took Jimmy out at the right knee. Jimmy was helped off the ice and Macdonald came out to replace him, stopping all 21 regulation shots he faced.
The wings tied it up in the second. Miller scored shorthanded after getting by russel on the PK to take it to 2-1. Hudler tied it up at 2 after putting in a pass from Filppula at the side of the goal.
There was no score in the third or the OT period, which took us into the shootout. Hudler, Bertuzzi, Zetterberg and Franzen all failed to put one up in the shootout. Vermette scored the shootout winner in the fourth round.
The only good thing that came out of this game is that Joey Macdonald is continuing to prove to me and everyone else that he can be a definate presence in the goal. I am very interested to see how he handles his start tomorrow at home.
Alright so now some bad news:
-Howard is out with a bruised Knee, don't know how long yet. Detroit GM Ken Holland has stated that the X-rays on the knee came back negative, but there is some definate swelling. Ken also stated that the "wheels are in motion" to get one of the Griffin goaltenders called up. So we are looking at having either McCollum or Pearce for a backup tomorrow night.
-Tomas Holmstrom has a broken hand. This may be a suprise to those of you who watched the game but Tomas Holmstrom had this to say:
"I don't know, I was battling around the net and I felt something," Holmstrom said. "I got to the bench and I felt like I can't hold onto the stick anymore.'' "I feel like @*%$" Holmstrom said.
He will see a specialist tomorrow to see if surgery is needed.
-Last but not least, Zetterberg ended his point streak at 11 games with 16 points.
We are apparantly going to have to try alot harder tomorrow if we want to make three points out of this series. Go Wings!
Tags: Detroit Detroit Red Wings Holmstrom Howard Hudler Injury Macdonald Nash Voracek NHL Zetterberg